Hello our dear friends!
It's a pleasure to write you about the good work entrusted to the Ghanaian team. We hope the body of Christ in the USA is growing moment by moment. We are doing well and we thank you for your prayers.
We have shared about how we would like to expand the talking Bibles ministry to the Northern regions of Ghana. We have closely observed things which hinder the growth of the church in this part of the world. Lives are being saved and the light is reaching the majority of those who we reach but there are ways to make this ministry more effective.
One difficulty is dealing with people who have a saying "Amamre ye Amamre", which means, tradition is tradition and nothing supersedes their traditions, culture or norms. Most of the villages have more than two languages or tribes living together. The history of this nation has a lot to do with tribal wars or feudalism within villages. Feuds have led to assassinations of some Northern regional chiefs and the feuds among these tribes are still being enhanced by their traditions.
For two years now we have seen how tribalism has affected the church and based on what we have witnessed, we can boldly deduce that if we don't promote the teaching and study groups among the tribes, we won't be able to accomplish the task before us and growth of the church will be stunted.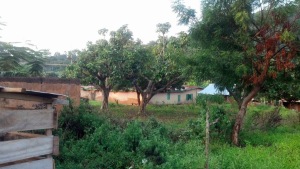 In one village, we met with the chief and gave him a talking Bible. Several months later, we were told that the chief hid the talking Bible and only he and his family listened to it. We cannot blame this man for not sharing with the other tribes because the tribalism among them was the reason why he promoted first the interest and welfare of his tribe before thinking about the others.
About 80% of our Bibles are being used in villages where at least three tribes are living together. We take time to meet with each tribe and even though they come together to listen, there is still division because of each tribe's culture and tradition. We have concluded that we need to focus on one tribe at a time within a village. Then the person of peace who will be taking care of the Bible will hand it over to his deputy when leaving and never need to worry about giving it to a man from the next tribe.
The persons of peace in several of our villages have realized the kind of darkness which is upon their village because of their practices and have pleaded with us to bring the talking Bible to their villages. These people have found the light and want to extend it to their people. At this time we cannot afford more than one talking Bible in each village. We pray to God to help us with about 100 Bibles in order to implement this idea.
We are not using money to build church structures but by the grace of God we are helping build the church which is the main body of Christ. We hope this letter brings joy to your hearts.
God bless you all.
Paul, Kwame and Heartwill