Audio Bibles in Sri Lanka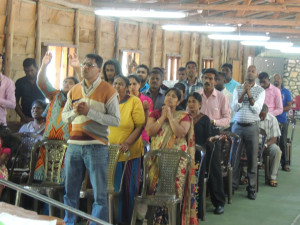 In November, a small team made up of Tory Bjorklund, and Janette and Sara Hoffman, travelled to Sri Lanka to distribute the first Audio Bibles from The Regeneration Center.
The team carried 100 Audio Bibles into the country in their suitcases. Once there, they helped conduct a Discovery Bible Study Training for over 100 pastors and attended and participated in several prayer gatherings throughout their one week visit.
Less than two percent of the population in this predominately Buddhist country is Christian. The Regeneration Center sees great opportunity to help spread the Gospel through the relationships we have established with the local church in Sri Lanka.
Please consider joining us to further His Kingdom in Sri Lanka through prayer and financial support.