Distributing Audio Bibles in the Native Languages to Rural Villages in Ghana, Africa
The Regeneration Center is pleased to be actively distributing Audio Bibles to the remote regions of Ghana. We have three faithful servants of God who are working full-time traveling the vast rural areas of Ghana to provide the Bible in the native languages of the rural villages in Ghana.
This initiative started as a result of a young man named Kwame. Dave Schonberg met Kwame in the Douglas County Jail. Kwame came faithfully to every Bible study and became a true believer in Jesus.  For well over a year he was held in detention by immigration authorities.  Eventually he was deported back to his home country of Ghana, Africa.
He asked for a Bible so that he could teach the Bible to young people. Dave asked him what languages the people in his area of Ghana spoke. He told Dave they spoke several languages; Ga, Hausa, Ewe and Tsi. We ordered 4 "Proclaimer" audio Bibles and sent them to Kwame. The Bibles proved to be a great hit. Kwame asked for more. We sent ten more. Then Kwame joined with a local pastor and began taking the Bibles to other villages.
They don't just leave the Bible at a village and never return. Instead they return regularly to check on the Bible to make sure it is being used, make sure it is being shared and to answer questions and encourage the believers in the village.
Today we have around 100 Bibles in eight different languages in circulation throughout four regions of Ghana.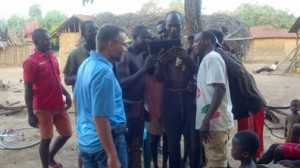 We partner with Faith Comes by Hearing for the audio Bibles. Go HERE to learn more about their ministry.