Providing Emergency Housing and Care for Children in South Africa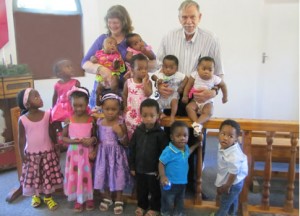 The Regeneration Center is pleased to announce the addition of Place of Hope Africa as a ministry of The Regeneration Center.  Marv and Marie Bjorklund are leading this ministry.
Since 2004 Marv and Marie have been living in South Africa and have seen first-hand the need for emergency shelter for children caused by AIDS, neglect, poverty, alcohol, and abuse.  Since that time, they have been working to provide a home for these children.
In 2008 they started a home in Plettenberg Bay, but were unable to dedicate the required time necessary to run the home.  In January 2011 they decided to turn the program over to the woman who had been the House Mother.
In 2012 their circumstances changed and they are able to dedicate themselves full time to the endeavor.  They have established a non-profit organization (NPO) that is registered with the South African Department of Social Development.  This organization currently has five board members, Marv and Marie and three South African Citizens.
The majority of the funding for Place of Hope Africa comes through donations from the United States.
"It has been encouraging to us that we have started our ministry…others have come along side wanting to partner with us.  Filling in the areas we have had a vision for but never expected to start so soon, as sewing, beading, mechanics, building, to name a few.  These people are also led by the Lord and have the same vision we do—to help those of South Africa (regardless of age) and give them a better life and hope for the future! – Marv & Marie Bjorklund."
To read more about Place of Hope Africa's ministry and mission, go HERE!
Click HERE to view a greeting from Marv and Marie